Top 10: Most popular Ukrainian pornstars on Twitter
Did you know some of the hottest pornstars on the planet live in Ukraine? Don't believe me? Well, just check out this list and you'll understand why. From pornstars like Emily Bloom to Mila Azul, these Ukrainian naughty girls are all true beauty queens! No wonder they are all so damn popular on Twitter.

Ready for today's top 10 list?
Pornstars from Ukraine with the most followers on Twitter
We've already shared our top 10 list of
most popular European pornstars on Twitter
, but today we're going to narrow it down a little bit and focus on all the kinky horny girls from Ukraine. And believe me, Ukraine has so much hot stuff to offer! Let's dive right in with the pornstar on our number 10 spot... Josephine Jackson!
Josephine Jackson
(48K followers)
Holy smokes! If there was an award for the hottest curvy body from Ukraine, the big titted beauty queen Josephine Jackson would sure as hell win that title. She's got the looks, she's got the boobs and she has the perfect curved body. Josephine Jackson could might as well be the definition of eye candy! The best part is; Josephine always has a big smile of joy on her face when she's having steaming hot sex on camera...

I think I'm in love... Better start following this beautiful curvy European goddess on her Twitter account right now so you won't have to miss out on that fantastic shaped body!



Follow @josephinejxxx on Twitter

Watch Josephine Jackson + 100.000 more full HD and 4K porn scenes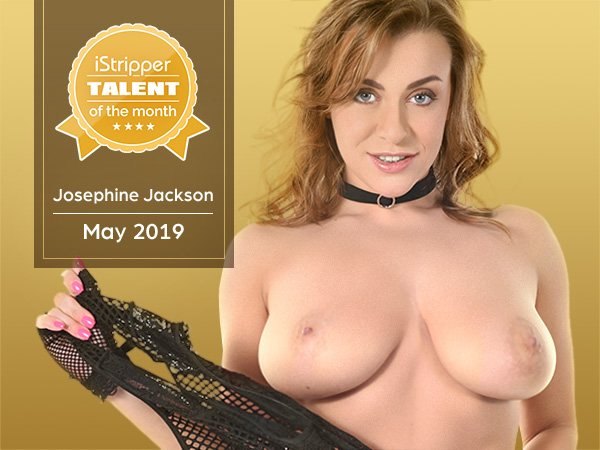 Daphne Klyde
(64K followers)
The most naughty Ukrainian pornstar on this top 10 list? That would be Daphne Klyde over here. She might look small, cute and innocent, but she's far from it. This dark haired, small titted petite babe loves to get hardcore and doesn't shy away from extreme scenes such as group sex, gangbangs, or taking a big phat cock up her tight little butt. As you can see, it's not always the busty double D type of girls that are the most kinky...

Daphne started her porn career at the age of 21, back in 2015 and with her apetite for hardcore sex on camera she quickly gathered a big fan following. Her 64K fans on Twitter are proof of that. In short; Daphne loves cock in all her holes!

Another reason on why to follow this Ukrainian cutie on Twitter is the fact that she loves to share a lot of explicit short clips (or previews) from her latest porn scenes.



Follow @DaphneKlyde3 on Twitter

Watch Daphne Klyde + 100.000 more full HD and 4K porn scenes
Alina Long
(67K followers)
With 5 years of experience in the porn industry (she made her porn debut in 2014) and 67K loyal Twitter followers, Alina Long managed to grab the number 8 spot on our list.



Follow @AlinaLongXXX on Twitter

Watch Alina Long + 100.000 more full HD and 4K porn scenes
Ivana Sugar
(77K followers)
Small blondes need their pussy worshipped every once and while too you know!



Follow @IvanaSugar on Twitter

Watch Ivana Sugar + 100.000 more full HD and 4K porn scenes
Red Fox
(95K followers)
In case you have a 'thing' for spicy redhead babes you're in luck... The only redhead pornstar on today's top 10 list is The Red Fox. And she's quite the kinky one, I can tell you that!



Follow @TheRedFoxLife on Twitter

Watch Red Fox + 100.000 more full HD and 4K porn scenes
Sybil A
(113K followers)
Ready to meet the beautiful curvy brunette Olga Sybil aka Sybil A? I sure hope you are, because this stunning babe is one of our favorite pornstars in the industry (not just from Ukraine). Why? Just look at her sexy face, amazing shapes, curves and great big pair of boobs. Sybil A is simply perfection! Can I get an 'Amen' for her amazing breasts?

Sybil A started out as a glamour and nude model. For the most part she only did photoshoots and softcore solo scenes. However, most recently she decided to show off a bit more of her kinky side as she now does hardcore porn scenes as well. And by hardcore, I truly mean hardcore... As Sybil A even does anal scenes these days. Now that's some fantastic news, isn't it?

Sybil A has quite the fan base as she's highly active on many social media networks. However, she saves the best hot nude (and explicit) content for her die-hard fans only through her premium Fancentro page! Be sure to check it out!



Follow @SybilA_official on Twitter

Watch Sybal A + 100.000 more full HD and 4K porn scenes


Follow Sybil A on FanCentro
Nancy Ace
(115K followers)
It's not hard to fall in love with Nancy A (aka Nancy Ace). Why? Just look at her sexy slim body and adorable cute face. Nancy is one of those pornstars that has the natural 'girl next door' look. Her best part? Those sweet big boobies on that petite body of hers. No wonder she has so many fans online!

Besides her hardcore porn scenes, Nancy A can also been seen dancing and stripping naked on your computer screen, thanks to the iStrippers team. Trust me, watching Nancy Ace stripping naked is lust for the eyes.

We are big fans on this petite beauty and we bet; you will fall in love soon as well...




Follow @NancyA_official on Twitter

Watch Nancy A + 100.000 more full HD and 4K porn scenes


Follow Nancy Ace on FanCentro
Mila Azul
(162K followers)
Looking for a petite, busty brunette with a tight little ass? Search no more, because here's the beautiful popular adult model (and glamour model) Mila Azul. And with 162K followers, it's safe to say; she truly is quite a popular actress in the adult film industry. Well, with her beauty, that doesn't shock us at all...

Mila Azul is one of those girls in the porn industry that is more focused on softcore and glamour. Most of her scenes are solo masturbation (with sex toys).

Mila also is one of the most popular stripper girls on the PC software iStrippers. So, if you want to watch and enjoy this stunning babe slowly strip naked on your computer screen, be sure to download the free iStrippers tool!



Follow @mila_azul on Twitter


Watch Mila Azul's live cam sex @ MyFreeCams
Emily Bloom
(221K followers)
Small, cute, petite and a big pair of sexy titties... Of course I'm talking about one of the cutest young girls in the porn industry today; Emily Bloom!

The former Playboy's Cybergirl Of The Month has an impressive 221K followers on her Twitter account and is highly active on many social media networks. She even has her own Youtube channel. Rather want to watch her getting naked instead of her vlogging videos? Be sure to check out her free cam shows on MyFreeCams.com! And believe me, with a sweet 'n sexy petite body Emily has, you really don't want to miss out!



Follow @TheEmilyBloom on Twitter


Watch Emily Bloom's live cam sex @ MyFreeCams
Eva Davai
(328K followers)
And our number one spot, the most popular Ukrainian pornstar on Twitter is... the busty latina milf Eva Davai with an impressive 328K followers. Now that's an achievement! Make sure to follow this stunning milf on all her social media accounts!



Follow @EvaDavai on Twitter


Watch Eva Davai + 100.000 more full HD and 4K porn scenes
This article is written on 5 November 2019, so the data might change or become outdated over time...
Don't forget to follow us on Twitter as well @socialmediapor1, so you won't miss out on all the latest news, our latest articles and lots more steaming hot content!

Still haven't found what you're looking for? Try browsing all the pornstars listed on our database!

Browse all pornstars