Real life pornstars starring in video games
Pornstars making a cameo in adult video games? Over 20+ famous pornstars such as Gianna Dior, Bridgette B, Asa Akira, Jenna Jameson, Rio, Traci Lords and many more can be found on today's list. Hell, even Ron Jeremy and celebrity Kim Kardashian (who got famous thanks to her sex tape) can be found in a video game (I kid you not).


Let's get started right away with listing all the sexy and naughty girls in porn that also starred in video games (both in casual as well as adult games).
Ready to unzip your pants and grab out that joystick? It's play time!
List of pornstars starring in modern video games
We start things off with a bit more modern day game titles that are starring famous pornstars. These games may vary between PC games as well as VR and mobile games (especially the last two gained massive popularity over the past few years). The first on our list? the busty blonde Bridgette B and the ultra sexy Gianna Dior.
Bridgette B & Gianna Dior in "Date Night" by VRbangers
The next big thing in porn? That has to be virtual reality porn, better known as VR porn! Some believe you'll need expensive VR glasses to enjoy all these amazing horny porn scenes in VR, but guess what? You can even use your own smart phone to watch your favorite adult stars going wild in VR.

With both VR porn as well as casual puzzle games (such as Candy Crush) being extremely popular, it was just a matter of time before the VR (casual puzzle) porn games would arrive... And well, VRbangers just released their naughty adult VR puzzle game called "Date Night".


Beat the puzzles and get laid! Date Night is starring pornstars
Gianna Dior
,
Bridgette B
amongst others (which are unlockable characters).
Want to find out which girls can be unlocked? Well, go try and play the game and see for yourself. You're about to experience some amazing steaming hot sex right in front of your eyes (with your VR glasses on).

Watch pornstars have sex in VR

Play Date Night @ VRbangers.com
Asa Akira in the addictive & sexy game "Booty Calls" by Nutaku
The anal lovin' asian pornstar Asa Akira just became a digital version of herself on the popular adult gaming website Nutuka, in the game; Booty Calls.

To quote our favorite naughty asian beauty Asa Akira herself; "She is the hottest version of me", and well, that sounds really promising! Booty Calls is a dating sim for adults... So you'll understand what the end goal of the game is. Try to get inside her panties! ;)


About Booty Calls; "Met with real life voiceovers, and laden with personality quirks, gamers, and Asa fans alike can get a digital taste of what it's like to date the anal queen".

The best part of it all? You can play this game (as well as many others on the Nutuka websites) 100% free of charge! That's right, Booty Calls is a free to play game. Think you got what it takes to date a wild and horny babe like Asa Akira?



Play Booty Calls game for free

Ron Jeremy in Leisure Suit Larry, Postal 3, BoneTown & more video games
Ron Jeremy is often called the king of porn, but most people don't know that uncle Ron also is the king of porn when it comes down to starring in video games. The famous hairy & chubby Ron Jeremy is the current record holder as he can be found in four different video games!

Who doesn't remember the epic (claymation) MTV show Celebrity Deathmatch, from way back in the day when MTV was still cool? I never even knew they made a video game out of it, but guess what? They did (in 2003) and it's starring pornstar Ron Jeremy.

Ron also appeared in Postal 3 as the character Mayor Chom and can be seen in one of the oldest and most the famous adult game series; Leisure Suit Larry (Magna Cum Laude) as the porn fairy.


His latest and greatest in video game appearance? That's got to be in the popular interactive multiplayer online 3D sex game; BoneTown. Chat and "bone" with all the live players walking around in BoneTown and well, maybe you're about to meet Ron Jeremy himself in there as well. ;)



Play 3D BoneTown game

Traci Lords in Hitman Absolution (2012) & Hitman New York City (2005)
Hitman Absolution is the fifth game in the popular Hitman game series. The game got released on PS3, Xbox 360 as well as on the PC.

While the younger readers of this blog post probably might not even recognize the name Traci Lords. However, Traci Lords was one of the biggest adult film stars during the 80's. Traci's story is kind of controversial though... While Traci rapidly became of the biggest names in the porn business, she had her first porn shoot while being under age (at the age of 16) as she used a fake ID. She also did a modeling job for Penthouse Magazine.

The first time we've got to see (or should we say "hear") ex pornstar Traci Lords as the video game character Layla Stockton was in Hitman: New York City (released in 2005).
Go on a date with your favorite pornstars (interactive porn games)
In case you've never heard of LifeSelector and their extremely hot interactive porn games, you've really been missing out. Thanks to interactive porn, our wildest sexual fantasies can become true.

Always wanted to be the summer camp leader of a group of naughty (and horny) teen girls, this is your chance to be in command! Rather go out on a date and spend the whole day with your favorite adult film star such as Riley Reid?


Or maybe sorority girls are more your thing? Mother and daughter fantasies, maybe? Dream of being a corrupt cop who abuses his power to have sex with hot chicks? It's all possible thanks to interactive porn, and the best part is... You are always in the center of the story.

You decide what's happening next!

Because you are in charge and the fact that it's all shot in point of view (POV), it really feels like you're the one banging all these dirty girls... Whatever your fantasy is, with a ton of content on their website, you'll be having an amazing time!


Need more examples? Check out or previous blog post on the hottest interactive porn scenes.

From Jessa Rhodes to Liya Silver, Adriana Chechik, Valentina Nappi, Elsa Jean and many more, you'll find them all at LifeSelector... Time to experience interactive porn games yourself! And tell me, what's it going to be, ha? Her pussy or her tight asshole?



Interactive porn games @ LifeSelector

List of pornstars in retro 90's and early 2000 video games
Who doesn't remember the good old 90's? The 90's were pretty much the glory days of early gaming. As the video gaming industry was gaining popularity really quick thanks to consoles such as the Sega Megadrive and the Super Nintendo... But let's not forget about PC gaming! It feels as if the transition from 2D games to 3D games happened almost over night (especially on the PC).

What about the retro games from the past starring real life babes from the adult film industry? We've even found some good old video game classics from the vault in which pornstars make a cameo.

Warning; these oldies contain highly pixelated hot girls. If pixelated babes scare the hell out of you, don't say we didn't warn you!
Ginger Lynn Allen in the (MS-Dos) Wing Commander games
If you grew up during the 90's with a good old MS-DOS computer just like me, you've probably heard of the Wing Commander games. Hell, you've might even played them back in the day without even knowing these games had a pornstar on the cast.

Pornstar Ginger Lynn plays the role of Chief Technician Rachel Coriolis in both Wing Commander III (1994) and the Wing Commander Prophecy game (1997). These two titles both we're completely different compared to the first two titles in the Wing Commander game series as these are FMV type of game.

You remember those FMV games, right? Basically, they we're interactive movies, similar to what I've described above on the interactive porn games... Except these two don't have any adult content or nudity in it.


And there's another big differences, as these we're released during the 90's and it all had to fit on one CD-ROM, you can pretty much guess the image quality. In other words, these FMV games we're pretty much highly pixelated (and really low quality) movies with a minimal amount of actual gameplay thrown in.

Got curious? You can watch a little sneak preview of pornstar Ginger Lynn in her role on the Wing Commander games on the Youtube video above.


Pornstar Jenna Jameson in GTA Vice City & Tony Hawk Pro Skater 4 (2002)
Both the GTA franchise and the Tony Hawk Pro Skater franchise are one of the biggest (and most selling) game series of all time... The kind of classic games that go down in history! It might be a coincidence, but both these games actually have the blonde pornstar Jenna Jameson (and her juicy big titties) in it!

Jenna Jameson did the voice acting for the Grand Theft Auto: Vice City character Candy Suxxx. In Tony Hawk Pro Skater 4, Jenna Jameson is an unlockable character called Daisy. Jenna provided both the appearance and the voice for the Daisy character. Always wanted to skate on the ramp or do a kick flip while looking like a real pornstar? This might be your lucky day.

Jenna Jameson is quite the porn legend. In case you've never seen any of her fantastic porn scenes, you can find some of her best videos on Pornhub. And damn, check out those amazing big round hooters!



Watch Jenna Jameson's porn scenes at Pornhub

Tera Patrick, Tylene Buck & Sunrise Adams in Backyard Wrestling 2 (2004)
The 2004 game "Backyard Wrestling 2: There Goes the Neighborhood" features not one, not two, but three pornstars... Tera Patrick, Sunrise Adams and Tylene Buck (better known as Major Gunns back in the WCW days). And well, she really does have "Major Gunns", right?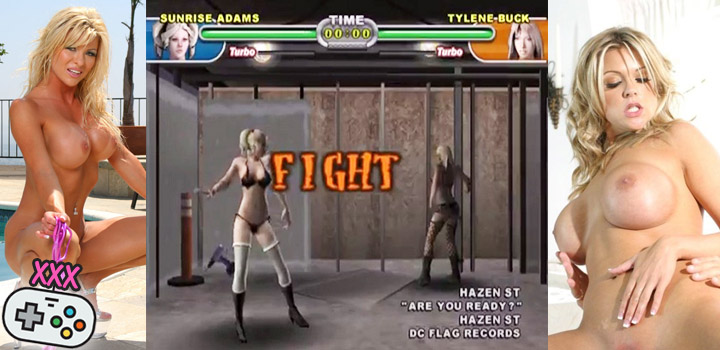 All three pornstars are actual playable characters on the Backyard Wrestling 2 video game. So, here's your chance to fight off Vampiro, stab New Jack, hit the Sandman with a kendo stick or throw those Insane Clown Posse guys through tables... All while playing as a busty blonde bombshell!
My life truly feels complete now...
Celeb Kim Kardashian in EA's Facebreaker (2008)
Sure, Kim Kardashian might not actually be a real pornstar, but we never forget how she got famous in the first place... That's right, by releasing a sex tape.

Interested in Kim's sex tape? Check out our list of famous celebs that turned pornstar which also stars other celebs such as Hollywood star Maitland Ward and the kinky asian MTV star Tila Tequila (amongst others).

Back on topic, Kim Kardashian was featured on the 2008 fighting game by the popular game studio Electronic Arts (EA Games) called FaceBreaker. FaceBreaker was released on Xbox 360, Wii and the PlayStation 3.
Tera Patrick in Saints Row 2 (2008)
Look who's back? Tera Patrick's cameo on Backyard Wrestling 2 wasn't her only in-game appearance so it seems...

How the hell could we forget about the sexy pornstar Tera Patrick holding her big guns in the Saints Row games?
That's our list for today folks.

However, did you know a lot of pornstars are into gaming too? Ready to find out which pornstars love to stream while playing video games on Twitch?


That list is a lot bigger as you'd might suspect (from adult stars like Mia Malkova, Sasha Grey and Annie Cruz to Mia Melano or Valentina Nappi). In other words; a must read!
Still haven't found what you're looking for? Try browsing all the pornstars listed on our database!

Browse all pornstars