Best kinky (dating) simulator games for adults - Can you seduce these girls?
Time to play the best and hottest dating sims and simulator games for adults. Regular video games not spicy or exciting enough for you? Well, the games we're listing today contain not only some steaming hot eye candy but also offer fun and great gameplay.

It's time to play with your joystick again, that's right, you know exactly what I mean... ;) as you're going to be hooked on these naughty porn dating simulator games below.


This is the second part of our naughty video games series. In this second part, we're going to showcase some of the best and hottest dating sims and NSFW simulator games such as the "build your own porn empire" game;
Fap CEO
.
In case you've missed the first one, it can be found
by clicking here
. In that first part of our blog series, we've covered all the casual naughty games such as Candy Crush type of games. In other words; simple, sexy and highly addictive.
18+ Dating sims and sexy simulator games?
Not familiar with the terms "dating sim", "dating simulators" or simulator games? These are a specific type of gameplay in which you as the player have to make strategic decisions with the goal to win over the girl (or multiple girls hihi). Or in other words; your goal is to get inside her (wet) panties.

Thinking about it, Super Mario and naughty dating simulator games aren't so different after all... In the end, in both of these games we'll just need to "save" the princess.


But in our case, we're getting rewarded with some steaming hot sex scenes, woohoo! So for today, F*ck Mario and show us some titties! :)
Some great examples of a regular (normal) simulator video games would be the classic "Sim City" in which you'll need to build and grow a city. Or what about the highly popular Rollercoaster Tycoon game which allows you to run your own theme park. The difference today is, that unlike the 2 games I've just mentioned,
the ones below
DO feature a lot of boobs and sexy naked babes in it!
Ready to discover which adult video games will get you hooked for hours, even days? Let's get right into it then!
PS:
a small note... All the games below are 100% free to play. Why not give them a try, right?
Free to play simulator game for adults: Fap CEO
Ever played Rollercoaster Tycoon and enjoyed building and growing your own theme park? Well, how would you feel about trying to hire the world's most sexiest girls to come and work for your own adult entertainment empire?

Instead of running your own theme park, in the game Fap CEO you are the owner of a new adult company and your goal is to make as much revenue as possible. How to get as much revenue as possible? Easy! By finding & hiring the hottest and best skilled girls on the planet.


Sure, running your own virtual adult company and building a naughty empire of your own is fun and all, but it gets better!

If you're surrounded by hot babes all day, there's a big chance (just like your paying customers) you'd might get a little bit excited yourself as well. That's the second interesting part of the game as besides trying to get better in your job as (fap) CEO, the game is also a dating sim as you can try to get lucky and share the bed with some of your sexy employees.


A strategy is needed to help and run your own adult entertainment company as the role of a CEO, as well as your romantic and smooth talking skills are needed to try and get laid with some cuties on your own team of staff members. That combination of gameplay is simply golden.


Fun fact: Did you know that even the famous gamer and long time largest Youtuber PewdiePie (104 million subscribers) even played Fap CEO on his Youtube channel? And guess what? PewDiePie really enjoyed playing Fap CEO too (even as being someone that usually never plays explicit adult games).

His video is no longer online and probably got removed because it was a little bit "too hot for Youtube" (against their no nudity policy).


Got what it takes to be a CEO of a big adult company? And got what it takes to go on a successful date (and get laid) with horny hotties? Let's see what you've got mister CEO! Time to play the extremely fun (and free) game; Fap CEO!



Play Fap CEO for free @ Nutaku

Popular dirty game that's packed with sex scenes... That's Hentai Heroes!
Suddenly a wild school girl appears!

"If you catch me, you can put whatever you want inside of it", said the horny hot little bunny in her school uniform while sticking her finger inside her tight asshole.

And that's how the highly popular (and free to play) adult game Hentai Heroes starts off...


After you start chasing that (cock craving) school girl (with her bunny ears) around and you'll catch her, things start to get really hot like really fast! She wasn't messing around as she opens up her legs for you. And that's exactly the point when the gameplay really starts.

In Hentai Heroes you start off in a town in which you'll get to choose what places you want to visit. While exploring the town, you'll meet all kinds of different hot girls (depending on which places you'd visit) as well as finding sexy little mini games and accepting missions you come across. And as a result, you can "win" these girls.

Best part is, some of these girls earn you big money which in return allows you to go through different places or buy items which give you access to new areas to explore. Personally, I love this aspect of the game, it's just so fun and easy (to control and) to go out to explore the world of Hentai Heroes.


As you can see, there's a big universe to discover and explore in the Hentai Heroes games and well, luckily for us... All the girls in the Hentai Heroes town all seem to be eagerly waiting for a guy with a hard rod to satisfy their needs for some pussy pleasure. Are you going to be the town's hero and fulfil all their sexual desires and needs?

Let's be honest... Who would ever really say "no" to the stunning busty hentai babes in this game, right?


If you like easy controls or a lightweight (not hard to learn) gameplay, exploration, mini games and sexy (and a bit of comedy) stories all mixed up... Go and have yourself some fun (and dirty) times by playing Hentai Heroes because you will absolutely love it!



Play Hentai Heroes for free

Booty Farm, gotta catch 'em all (hot girls, that is...)
Gotta catch 'em all? Nope, we're not playing Pokemon today as today we're trying to catch as much girls as we can and grow our harem as big as possible (kinda like my dick while playing this game hihi).


Running your own farm might not sound that exicting but trust me... the life on this farm gets really exciting.

in the Booty Farms game you (the player) are a rich Playboy kinda dude that suddenly has inherited a rusty old farm from his uncle. Just when you are about to sell that old barn, the totally fap-worthy farmgirl (and your personal assistent) Mindy shows up and she doesn't want you to leave... at all!

You quickly discover that there's a shortage of men in town and that really shows as more and more horny girls (all looking to taste your dong) show up at your new farm on daily base. Think you are "cowboy enough" to tame these wild gals?


It's not just your job but it's even your duty to help out these poor & lonely soaking wet girls that haven't had any kind of sexual pleasure in years. Their pussy are all screaming (and begging) for a big dick! And since you are the only guy around... Do the math!

You'll let them work for it by proving a job and in return, you'll give them what they want... a little attention in their undies, if you know what I mean.


It's all really worth it by the way as there are many rewards to win while playing the game. For example, there are over 200+ exclusive sex scenes in this game to unlock! How about that?


Time to play Booty Farm and grow your harem of horny cowgirl hotties as large as possible! Nobody will ever claim that life at the farm is boring after playing Booty Farm over here, that's for sure...



Play Booty Farm for free @ Nutaku

Visual novel dating sims
There's also another video game genre which is often being referred to as a "dating simulator" as well. While the games mentioned above are more like regular simulator type of games and mainly focused on actual gameplay, that's not the case with visual novel style dating sims (as these type of games are more story driven).

The term visual novel basically already explains itself. It's almost like a normal novel but with graphical visuals and animations and of course the most interesting part of these type of games; you are the one that has to make important decisions for the main character of the story.

Decisions you'll make for the main character will have a heavy impact on how the story will unfold. And that can go both ways, negative and positive. But if you're lucky, things might get pretty wild near the end of the story.


If you're into reading erotic books in general or are a fan of the beautiful (and sexy) Japanese art style or love to watch hentai movies, I'd suggest you'd check out one of the
many adult visual novels at Nutaku.net
.
Note:
Unlike the other games we've listed above (Fap CEO, Hentai Heroes and Booty Farm) these visual novel style games aren't available for free (only as a purchased download).
Part three is coming next week
That's it for today. Enjoy all these hot and horny dating sim games either on your PC, phone, tablet or game console. Whatever game you'll choose to play; rather explore and bang all the ladies in the city of Hentai Heroes or rather collect as many chicks at your farm or for your very own adult startup company (Fap CEO)... One thing is for sure, you're not going to get bored for a very long period!


But to give you a real sneak preview, something real to hold on to (besides that "big friend in your pants")... Yup, we've recycled that joke (again).

What's cumming in the next part of the series?
In the next upcoming part of the "naughty video games blog series", we'll be covering all the kinky porn parody video games based upon your favorite video games, TV shows or mainstream movies.

That's right, imagine the cast of your favorite TV show only this time in a bit more explicit way while exposing the dirty side of their personalities... And of course, they'll be flaunting those juicy boobs a lot. I'd bet they are probably craving for some wild rough hardcore sex too.

These porn parody games somehow always end up in one giant crazy group orgy. Everybody ends up having steaming hot sex with everybody...

Next week, it's porn parody time! Think of XXX parodies such as; Narcos XXX, Fucknite or Ms Pac Whore... It might surprise you to find out what's out there!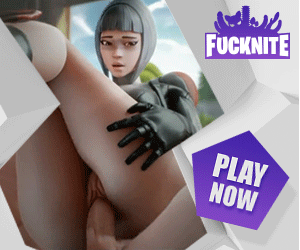 You know what that means, right? A whole lotta fuckin' right in front of your eyes (both on your computer screen or smartphone).
Can't wait for next week? Well, entertain yourself with the great games we've listed above. You're not going to regret it. And once again, they are free to play! Enjoy folks.
Still haven't found what you're looking for? Try browsing all the pornstars listed on our database!

Browse all pornstars